THE BIG QUESTION

Our "Day Planner" has been prepared for guests who wonder, "What in the world is there to do around Home-Nest Farm, anyway? Doesn't life get a bit boring after a while in the middle of nowhere?"

THE ANSWER

Our 'nowhere' may prove to be just 'where' your heart desires to be! As you can see, there is more than enough to do in and around Home-Nest ... enough to keep you coming back, year after year, for more ... a place where dreams can come true. Dreamers can be doers! And our infinite possibilities for 'doing' can produce the most memorable experiences of your life!

MAKING HOME-NEST YOUR HOME, TOO

Our family has been blessed to live here for centuries. Today, some of our happiest moments are spent sharing this life with guests, hoping to count you among our extended Home-Nest family.

SCROLL DOWN ... START BUILDING THE DREAM

HIKING


Home-Nest Farm.  Much to explore right at home!  Restful walks on miles of old discontinued roads; ancient graveyards; impressive granite foundations and stonewalls of long-decayed residences; remains of old orchards and lilac trees that bear witness of past activities.  A detailed 1872 map, identifying the roads, homes and former occupants, hangs on the wall of our Carriage Shed. This can be of help in planning your trips to discover forgotten times and places.  Many natural history highlights; land abounds with moose, deer, birds, and wild flowers.


                                                     Things to Do in and Around
                                                 Home-Nest Farm  

Most of Home-Nest's shorter-term guests prefer to "stay home", savoring the unique and restful flavor of our farm's facilities.  However, we do find that longer term visitors often ask us to suggest nearby activities, to satisfy special personal interests: historical sites, antiques, sightseeing, golfing, hiking, theater, skiing, boating, swimming and fishing.  With this in mind, we have compiled this list of suggestions, together with directions, travel time, and a brief description of the attractions of each recommendation.  It is far from being an exhaustive list; but it includes some of your hosts' favorite 'haunts'…and will serve to give you an idea of the great attractiveness of Home-Nest's location.

ANTIQUES

Lakeside Antiques,  Manchester.  20 min. ride:  Route #17 East to Rt. 202; West on #202 about two miles to the shop (on left).  Several dozen dealers share large 2-story barn.

Wilbur's Antiques, Greene.  30 min. ride:  South Road to Wayne; #133 East to Winthrop; #202 South to Greene…on right.  Big stock; good variety; personable owner (Mrs. Wilbur).   Two barns plus house where highest valued furniture is kept.

Tuttles Antiques, Pittston.  40 min. ride:  East #17 to Augusta, Rt. #27 (South)…on left.  Look!  Drool! (But, probably, don't buy!)  A veritable museum:  rare, quality antiques priced into the tens of thousands.  Beautiful showrooms in restored colonial homes.

Elmer's Barn, Coopers Mills.  50 min. ride:  East on #17 to Coopers Mills…on left.  A true "institution", Elmer is a genuine character!  (You may have read the story about him in YANKEE MAGAZINE.)  Look!  Laugh!…and be ready to buy!  You may have to really hunt for what you want.  Don't give up!  It may be under a pile of dusty bearskins on the third floor of the barn.  Not the neatest; but certainly one of the most fascinating.

Hallowell Historic District, Hallowell.  30 min. ride:  East on #17 to Augusta; south on #201 to Hallowell.  Historic village on banks of Kennebec River.  Contains many quaint shops, all in a concentrated area.  Have a good lunch or meal at Slate's Restaurant, right in the midst of the shops.

GOLFING

Maple Lane Golf Course, Livermore.  20 min. ride:  South Rd. to Wayne; Rt. 219 West to Rt. 108; turn rt. On #108 and look for Maple Lane sign (turns off to right and follows river North.).

Turner Highlands Country Club, Turner. 20 min. ride; South Rd. to Wayne; right short distance on Rt. #133, then left on Rt. #209; left off #209 onto Rt. #117 at Howes Corner to Club House on left. Scenic location, with apple orchards and expansive views to Western mountains. World Golf says, "Great course. This 18-hole course is an easy one to play, but not an easy one to play well on . A variety of challenging holes" – yet, fun for all, including beginners. Excellent restaurant (Eli's) on site.

Augusta Country Club, East Winthrop.  20 min. ride:  East on Rt. #17 to Manchester light; left on Rt. #202 to clubhouse on left.  Overlooks Cobbosseecontee Lake.

Wilson Lake Country Club, Wilton. West on Rt. #17 to Livermore Falls; right on Rt. #133 to Wilton; left on Rt. #156 to course, on left, just out of town. A long-time favorite for area people. Lake and mountain views. For a treat, eat on outside deck tables above babbling Wilson Stream, at The Boiler Room in Wilton (in the old Bass Shoe factory).

Sugarloaf Golf Club, Carrabassett Valley.  1 ½ hours drive: Rt.  #17 West to #133;  #133 North to #4;  #4 North to #27;  #27 North to Carrabassett, follow signs to Sugarloaf Mts.  1986 Gold Digest called this Robert Trent Jones II course "Maine's finest."  Spectacular Mtn. Scenery; take 2 mile gondola ride to summit of Sugarloaf Mtn., while there.

Mingo Springs Golf Course, Rangeley.  1 ½ hrs. drive:  West on #17 to #4, North on #4 through Rangeley Village to course (on left).  Expansive water and mountain views of this famous vacation paradise.  Treat yourself to a gourmet meal at the old Rangeley Inn.  Ride the lift to the top of Saddleback Mtn. for the view.

FARMING

Home-Nest Farm, Fayette.  You don't have to move off our 200 secluded acres!  Visit our flock of sheep, horses (Jet and Sassafras), and donkey (Ebenezer). Get to know them, hand feed them their grain and become friends.  Pick your own wild berries for breakfast:  strawberries in June-July; raspberries in July-Aug.; blueberries in July – Sept.   Join in the haying in late June …gardening all summer.  Pick apples in Sept. – Oct.

Berandt and Elaine Graf's Dairy Farm, Fayette.  Just 5 min. west on the Bamford Hill Road.  A small working dairy farm.  Our personable neighbors welcome visitors.  Observe and/or actually participate in feeding and milking operations.  Telephone for appointment:  897-5296.

Ford Stevenson's berry farm, Wayne.  10 min. south…South Rd. to Berry Rd., turn right on Berry Rd. a short distance to signs.  Pick your own strawberries and raspberries in beautiful and extensive commercial fields.  Enjoy the quietness, beauty and aromas of the experience.  Guaranteed to give pleasurable, lasting memories…long after taste buds lose the sweetness from garnished cereals.  (late June – August)

Kents Hill Orchards, Kents Hill.  10 min.  East on Rt. #17, on left. Great views of lakes and mountains. Nice farm store. Pick your own apples in scenic hilltop commercial orchards, typical of many such operations in Western Maine. Help us get in our supply for preparing next winter's applesauce. (Sept. – Oct.)

Norlands (historic farm museum)
, Livermore.  20 min. ride:  South Rd. to Wayne; right on #133, immediate left on #219; right on #108 (after crossing double bridges over Androscoggin River); follow signs to Norlands Living History Center.  A national Historic Site:  (admission fee).  You may have hands-on farming experiences in old methods:  milking cows, churning butter, carding, spinning, weaving, ice harvesting, haying, working land and draft horses and oxen, wagon and sleigh rides, tending and harvesting crops with old-time ways.
Maine Agricultural Fairs, all around us!  July – October.  Livestock exhibits, produce exhibits, harness racing, sheep showing, handcrafts, games, and fireworks.  Celebrating the Maine farm tradition.  See scrapbook that we maintain in each facility, containing each year's detailed schedule, directions, etc. Two of our favorites are the Farmington Fair (usually the third week of September) and the Fryeburg Fair (usually the first week of October).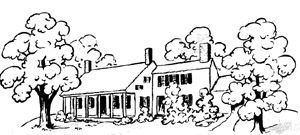 Mt. Pisgah, Winthrop.  20 min. ride; South Rd. to Wayne; Old Winthrop Rd. to Warden's cabin on left (up hill, beyond Wilson Pond).  Gentle ½ hour climb.  Good hike for young or old.  Fire tower on summit (manned in season) gives excellent 360 degrees panorama (50 – 60 miles); hills, Mts., lakes and ponds on all sides!  Take a picnic.  Excellent blueberry picking on abandoned pastures of the South shoulder, near summit.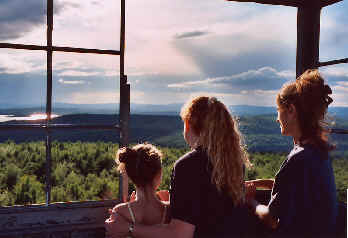 Monument Hill, Leeds  20 min. ride; South Rd. to Wayne: Rt. #219 West 4 miles…& take first left ("North Rd.")  2 miles South to trail sign on left.  Gentle 20 min.  Hike to summit.  Good views of lakes and mountains.  Granite obelisk Civil War monument at top in memory of General O.  O. Howard, Founder of Howard University, Head of the Freedmen's Bureau, Superintendent of West Point.  This former Leeds schoolteacher lost his arm in the battle of Fair Oaks.  Read about him in our book, JOSIAH VOLUNTEERED (page 531)

Mt. Blue State Park Area, Weld. 45 min. ride:  West on Rt. #17 to Rt. #133; North of Rt. #133 to Rt. #156 to Weld. 

Center Hill Picnic Area, Mt. Blue Park (take right at flag pole in center of Weld village).  Easy access. Good, scenic picnic facilities (tables and log shelters and fireplaces).  Gentle hiking trail through woods to open granite ledges, affording spectacular views of rugged mountains and lake.

Mt. Blue State Park Beach.  Take Rt. #142 North at Weld flagpole, follow signs.  Excellent swimming, picnic facilities, shelters, toilets, boats. [Forget climbing Mt.Blue! It's tiresome & no view from top due to dense tree growth.]

Tumbledown Mtn. (Mt. Blue Park area).  Our family's favorite climbing trails; trails of varying difficulty, requiring 1 to 2 hours for ascent.  Pristine crater lake at top, nestled between 3 spectacular granite peaks, with much above timberline hiking.  Cliffs, caves, chimneys, views and challenges for the most ambitious climbers, yet can be mastered by most anyone.  Wild blueberries and cranberries galore.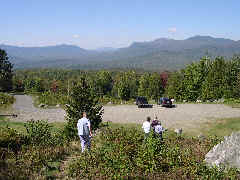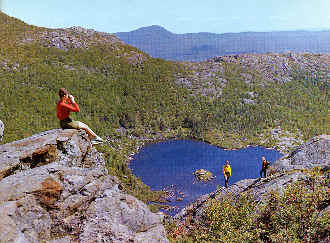 Smalls Falls,  Sandy River Plantation.  60 min. ride from Home-Nest.  Follow previous directions to Weld; at Weld flagpole take Rt. #142 North to Rt. #4; West on Rt. #4 about 8 miles to Picnic Area sign.  State Park area.  Good facilities (tables, shelters, toilets), gorgeous series of falls.  Nice hiking trails along water.  Swimming hole.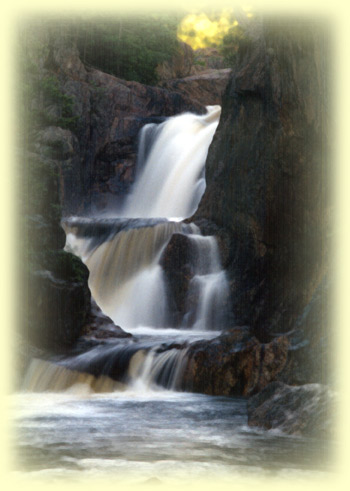 Popham Beach State Park, Phippsburg. 75 min. ride: Rt. #17 East to Augusta; South on Rt. #127; right on Rt. #1 to Bath; South on Rt. #209 to the beach. Miles of wonderful white sand beaches. Beach provides wheelchair access by boardwalk over the dune area approaches. Good seal watching at the mouths of the Kennebec and Morse Rivers. Children like exploring the well-preserved granite fort. Walk out to islands at low tide.

Reid State Park, Georgetown.  75 min. ride:  Rt. #17 East to Augusta, South of Rt. 127 (crossing over Rt. #1 at Bath) all the way to Georgetown.  Hike diverse environment that encapsulates the best of Maine's coast:  miles of white sand beaches, rocky headlands, dunes, and salt marshes.  Beautiful even in winter (as attached photo). Snack bars, tables, toilets, changing facilities at main parking areas.  Have lobster at Five Islands pier on way home…a great ending to a memorable day!..(only about 2-3 miles from the State Park).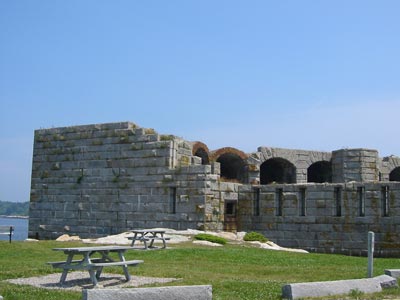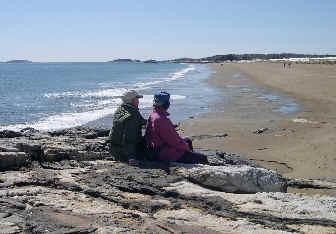 MOOSE WATCHING

Our guests are especially fascinated by Maine's huge, ungainly moose. Invariably, they ask where to go to see one in the wild. Moose-spotting can be frustrating for the impatient! When you want so desperately to see one, it seems you never will. When it is of no great importance in your priority of planning the day's events, you're very likely to have one appear when and where least expected: (with no camera at the ready!). They can appear in our own back yard. They can amble through a village's main street. They can stand in or near major highways. They can charge out of the bushes in front of speeding traffic: (yes, you must heed the signs "Moose Crossing" even if you've never before see one there!).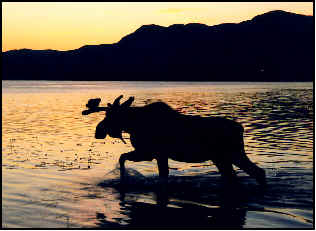 Since the institution of an annual Moose hunt, Maine's moose (numerous as they are) have become even more difficult to spot. They have become leery of the dangerous human: (and rightly so). However, they still have favorite trails and destinations. Here are some suggestions.

In our own back yard: 1) as you head for route #17 by way of the Bog Road, always look left over a marshy area near the intersection of the Gile Road; 2) as you head west on the Bamford Hill Road towards Graf dairy farm (perhaps on the way to milking instructions!) check both sides of the road in the deep valley where there is an extensive bog, just before a steep rise to the Graf's.

On Route #4 from Phillips to Rangeley: just beyond the Smalls Falls picnic area on the left side of the highway, there is a wet area that abuts the road for about one mile. Because there is a sharp drop-off from the edge of the road to the wetland, most cars speed by without realizing that just a few feet away a moose or two can very often be found nonchalantly grazing, evidently fully cognizant of the fact that few humans will bother them there. If the effort doesn't at first pan out, drive on to the beautiful town of Rangeley, have lunch on the deck of "Park & Main Restaurant" or the Gingerbread House in Oquossoc, then check again on your return home.

Route #27, north of Stratton: you will cross a causeway a bit north of Stratton Village with Flagstaff Lake on either side of the road. Don't be fooled by a number of dark stumps in the water that look much like moose. Keep going beyond the causeway about ¼th of a mile to where a brook on the left comes almost to the road. This seems to be a favorite hangout for moose. If you're in the area at dusk or nighttime, ask where the Stratton road department sand and salt pile is. Moose gather regularly after dark for a good salt lick.

When all else fails, see a great stuffed moose at the Maine State Museum, or see a live one at the Maine Wildlife Park in Dry Mills, Maine.

THEATERS

CINEMAS:

1) Narrow Gauge Cinema, Farmington (1/2 hour drive);


2) Regal Cinemas, Augusta (Mall off I-95, north of Augusta – ½ hour drive)

STAGE: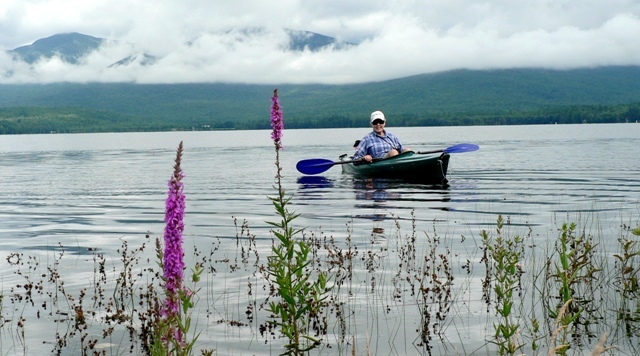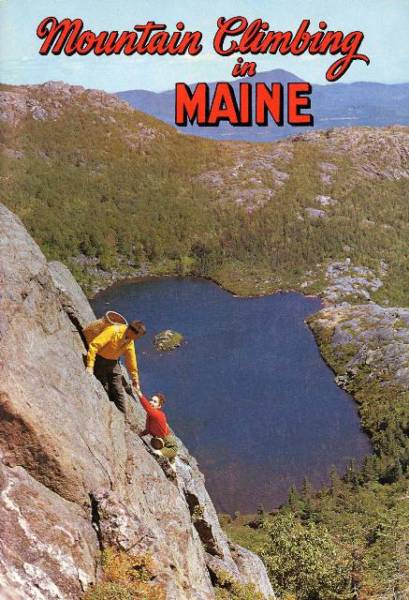 The Theater at Monmouth, Monmouth, Maine: ½ hour; route #17 to Manchester; right on route 202; left off route #202 onto route #132; follow route #132 for about 2 miles to theater. Performances are held in the strikingly beautiful Cumston Hall, listed on the National Register of Historic Buildings. On stage in the architectural splendor of this fascinating turreted Victorian structure, talented actors and actresses present the exciting energy of live theater. By act of Maine's Legislature, Cumston Hall has been designated the official "Shakespearean Theater of Maine."  But the schedule of plays is very diverse – every one (Shakespeare or not!) being a classic.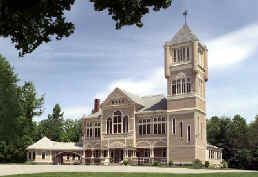 Maine State Music Theatre, Brunswick, Maine: 1 hour drive; route #17 to Augusta I-95 to I-295 to Brunswick exit onto Maine Street; south on Maine Street to left onto Bath Road – (theatre on right). Professional performances of Broadway musicals that entertain and enrich lives. For example, a recent season included "Swing!", "Miss Saigon", "Cats" and "Mame." Childrens' shows are also scheduled. This is the only "Resident Stock Professional Musical Theater" in the United States.Click here to add text.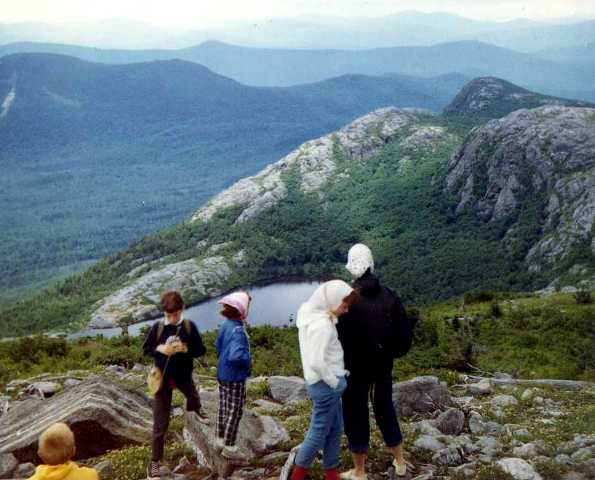 OTHER SCENIC DAY TRIPS

Warning: the trips marked with this symbol -♣ – (on or near Route #1) – can experience a lot more traffic in July and August than the inland Maine trips. However, if you're prepared for a bit of slow going, we still think you will agree the effort is well worth it.
.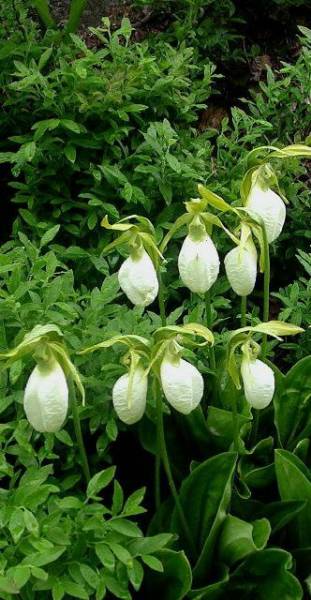 ♣ Camden Hills State Park, Camden. 75 minute ride: East on #17 to Route #90; North on #90 to Rockport/Camden. Park entrance on Route #1, just North of Camden Village. Extensive hiking trails – (maps at gate). Be sure to drive your car to the summit of Mount Battie for panoramic views of Camden Harbor, the Penobscot Bay Islands and Bar Harbor mountains in the distance. Camden harbor is home port for a large part of Maine's famous vacation schooner fleet. Be sure to visit the town wharf for a close-up view of these picturesque "tall ships."

Monhegan Island, Monhegan Plantation (one of Maine's outermost islands). 1 ½ hour ride to Port Clyde, where you can catch the mail boat to the island: Route #17 East to Route 131 (just East of Union); #131 south to Port Clyde. Call in advance for reservation on the Laura B." No cars are allowed on the ferry. A bit expensive for a day's trip but worth it! One hour ferry ride each way. Book passage on the early morning run, then back in the PM – giving time to wander, see the little village, the lighthouse museum, walk through the peaceful "Cathedral Woods" to cliff trails across spectacular headlands so often painted by World-famous artists. Watch for seals on little isles at the harbor's entrance!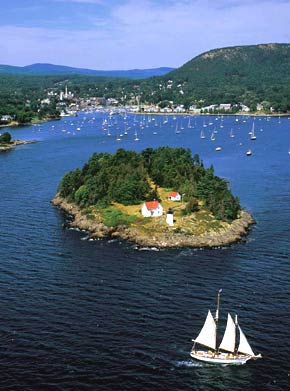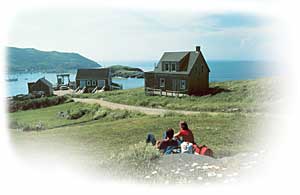 Richardson Lakes, South Arm. 80 minute ride to South Arm campground landing, where a boat from "Lakewood Camps" will pick you up at a prearranged time and transport you to Middle Dam. Call 1-243-2959 (radio telephone connection) to make arrangements. Enjoy your main meal at a central dining hall of this remote hunting-fishing camp.


Hire a water taxi to give you a tour of the beautiful 16-mile-long lake. Be sure to walk from the lodge along the Rapid River trail between Middle Dam and Umbagog Lake: there you will see the former home of Bernice Richmond, who wrote the famous "We Took to the Woods" … (this is where she 'took' to!). We keep copies for guests to read. There are many fine swimming holes along the trail. Canoes are available to explore "Pond-in-the-River," on the route. Get a taste of how previous generations 'roughed it.' (No need to worry about traffic on this excursion!)

Swan Island, Richmond. 45 minute drive: East on #17 to Interstate #95 (Augusta); South on #95 to the Richmond exit (Route #197); #197 East to Richmond Town Boat Landing on the Kennebec River. Park in the northernmost area, at the State Park wharf, where you will be picked up by the State Warden boat at a prearranged time. Call 547-5322 for reservations. A Park Warden will pick you u at the landing and carry your party to the island for a tour of the wildlife sanctuary. Many deer, eagles, ducks, hawks, etc. Attractive picnic grounds with log shelters and fireplaces. Abandoned houses from 1700's; interesting old graveyard, orchards, beautiful fields and woods. Great hiking! Children enjoy it.

Maine Wildlife Park, Dry Mills, Maine.  75 minute drive: South Rd to Wayne; Route #219 to Route #117, to Route #4; South on route #4 to Auburn entrance of Maine Turnpike (I-95); South on turnpike to Gray exit (Exit 11), and then take Route #26 North to Dry Mills. State hatchery produces brook and lake trout. The wildlife education center has nice displays; self guided nature trails; picnic facilities; pheasants, deer, bear, moose may be seen live here in the game farm, where orphaned or injured wildlife is tended to in preparation for their release back into wilderness areas.

Fort Knox, Prospect, Maine. 80 minute ride: route #17 East to I-95; North on I-95 a short distance to the exit to Route #3; route #3 east to Prospect. This State Park is an all-time favorite fort: a real treat for old and young alike. This massive granite fort overlooks the Penobscot River near Bucksport. It was built in 1844: huge original cannon; dungeons and underground tunnels; high ramparts overlooking great river vistas. Be sure to take a flashlight!

♣ Owl's Head Transportation Museum, Owls Head (near Rockland). 90 minute ride: est on route #17 to Rockland route #73 to Museum signs. Fun for old and young. This museum has one of the finest collections of antique aircraft (see them fly in special weekend air shows), automobiles, and engines. Take a 100 year journey through the evolution of transportation – from horse-drawn carriages to World War I fighter planes. Take a ride in a Model T! (Open 7 days a week from May through October .. weekends only for the balance of the year.) Be sure to visit the Owls Head Lighthouse, while there.

Pemaquid Lighthouse and Museum, Pemaquid, Maine. 90 minute ride: est on route #17 to Augusta;  south on route #27 to Wiscasset (town often photographed as representing most typical old New England village); north on route #1 to Damariscotta; south on route #130 to Pemaquid Point;. One of Maine's prettiest lighthouses: erected in 1827. the rock formations on the rugged shoreline make spectacular photographs, as a foreground to the lighthouse structure. Nearby /Fort William Henry (stone fort erected in 1692) has an interesting museum; and there are very interesting archeological excavations of a 1620 settlement – (with good seafood served at a pier on the site!).


Farnsworth Art Museum and Farnsworth Homestead Museum, Rockland, Maine. 75 minute ride: east on route #17 to Rockland. Considered to be one of America's finest regional museums. Estensive collection of Maine and Maine-related artists: Homer, Hartley, Kent, Wyeth (N. C. Wyeth, Andrew Wyeth and Jamie Wyeth), Marin, Pierce, Bellows, etc. The homestead (a National Historic Site) is one of the finest Victorian era residences in the country .. with its elegant Greek Revival exterior and its lavish and colorful interior.. Be sure to visit the nearby waterfront while there.

Eagle Island, Casco Bay. Arctic explorer Admiral Robert E. Peary's home: now a State Park. 75 minute ride to South Freeport docks, where get "Atlantic Seal Cruises" boat (no cars) to Eagle Island. Call Atlantic Seal (207-865-6112) for boat schedule and reserve. Fascinating jewel of an island: beach; ledges, tidal pools, easy walk around island; tour the old home. Take early boat out and return on a later boat, giving several hours to explore. Take a lunch or plan on eating at the excellent Harraseket lunch and lobster company facility at the south Freeport docks. Near L. L. Bean!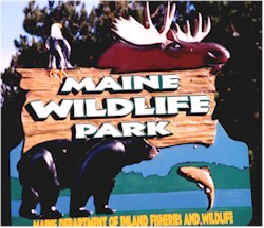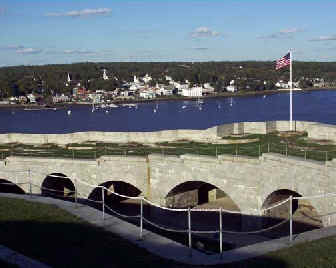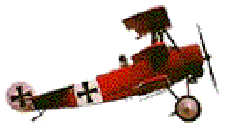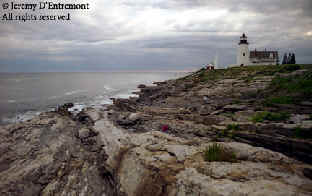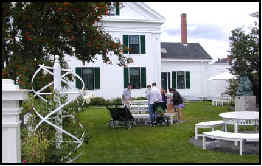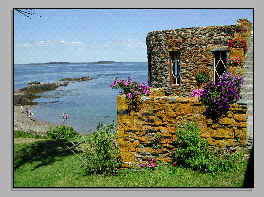 ACCENT ON HISTORY

Home-Nest Farm – (your vacation home!). For a self-guided exploration of life at this family home of eight generations of Sturtevants, each one of our rental units is provided with copies of two books: JOSIAH VOLUNTEERED, a 550 page volume that accents family life in the Civil War period; then there is HOME-NEST CHRONICLES, a profusely illustrated collection of many interesting family stories, from early settlement days to the 20th century. For those of you who wish to take a copy home as a memento, they are available for purchase.

Norlands Living History Museum,
Livermore. (See driving directions under "Farming.") Tour the mansion house, farm buildings, schoolhouse, church and gothic library: oxen, draft horses; wagon & sleigh rides. Home of the famous Washburn brothers. Hear the story of their unequaled accomplishments in United States politics. Among the seven brothers there were: 2 governors from two different states; 4 congressmen form 4 different states; 1 United States Senator; a U. S. Secretary of State; 2 foreign ministers. The also had successful and colorful careers in the military and business fields. One founded Washburn-Crosby Mills (Gold Medal Flour), while another, in typical competitive spirit, founded Pillsbury Flour. Learn how they were raised by their mother, Patty, and experience attending the one-room schoolhouse (authentic reenactment) where they were educated. [Your host, Arn Sturtevant, was founding President of the Norlands Foundation.]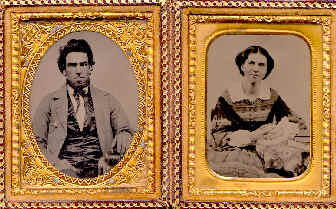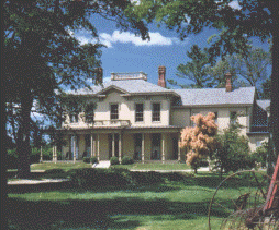 Maine State Museum, Augusta. 30-minute ride; east on #17 to State Street; south on State Street, turning right after Capitol building into large parking facility. Great way to spend a cloudy or rainy day. Rated one of the nation's best State museums, winning many awards. – (including National award for one of the top three new exhibitions, Smithsonian Museum and the Ford Museum being the other two recipients!). Learn about Maine's people, natural history, and industry. Innovative, entertaining exhibits. Children especially love the realistic wildlife exhibits, where they play games of identifying the many creatures (SOME STUFFED, SOME REAL!) in woodland settings --- moose, deer, beaver, eagle, live rout in flowing streams, etc. [Your host, Arn Sturtevant, is past Chairman and long time member of the Museum Commission.].

Fort Western, Augusta. 30 minute ride: east on #17 to Water Street; take old bridge over the Kennebec River, and turn immediately right after crossing. Built in 1754 by Plymouth Company to protect from the French & Indians. Barracks now a museum. City owned.


Maine Maritime Museum, Bath. 60 minute ride: east on #17 to route #27 in Augusta; south on #27, turning right on #127 at Dresden Mills to route #1 in Woolwich; right on #1 over the Kennebec river Bridge into Bath; follow signs to left, along the west bank of the Kennebec, past Bath Iron Works to the Museum. Maine's seafaring history comes alive here. Explore the restored shipyard buildings, picnic on the docks, chat with boatbuilding apprentices as they learn the skills and traditions of Maine's shipbuilding masters. Browse through the striking new exhibition building. Get the feel of the sea aboard the Grand Banks schooner, Sherman Zwicker. This old shipyard once built the largest wooden sailing ships that ever put to sea.



RESTAURANTS

Nearest to Home-Nest, for light lunches

APPLE SHED, Kents Hill, on route #17 going east to Augusta. 6 minutes. Wonderful home made pastries, fresh fruit, soups, baked beans etc to take out.

FAYETTE COUNTRY STORE, Fayette Mills, on Route #17 going east toward Augusta.  5 minute ride.  Pastries, beverages, subs, Italians, pizza, sandwiches made to order. Limited inside seating at 2 tables.

OASIS, East Livermore, at corner of Routes #133 & #106.  10 minute ride.  Large area of inside seating.  Complete lunch and dinner menu, hot and cold sandwiches, full breakfasts served;  moderately priced for fare provided.


TUBBY'S, Wayne, Main Street on route #133.  10 minute ride. Excellent homemade ice cream and light lunches. Nice outdoor eating amidst gardens on bank of a scenic mill pond of this beautiful little community. (September open only Fri-Sun. Closes in October.)

other good options for light or full meals in immediate and surrounding areas

WEATHERVANE  RESTAURANT (class A facility), Readfield Center, Route #17 (west toward Augusta).  15 minute ride.  Most popular nearby restaurant for our guests.  Lunches served at noon.  Only full dinners in evening:  though they do offer small portion plates, which are generous enough for your hosts!  Scenic location on the shores of pretty Maranacook Lake.

CHUCK WAGON RESTAURANT (class A facility), Livermore Falls, Main Street.  15 minute ride.  Excellent lunches and full course meals at reasonable prices.  Beef a specialty.  Fried clams are unusually good.

LAFLEUR'S RESTAURANT (class A), Jay, west side of Routes #17 & 4, Livermore Falls to Wilton.  20 minute ride.  Very good fare.  Especially good for adults -- (perhaps not so good for restless children, as all open table seating, less privacy and bit slower service than impatient youngsters might tolerate).


BOILER ROOM (Class A) Wilton, Main Street, off route #2. 20 minute ride. In the famous old Bass Shoe factory building. Inside dining room or eat outside on scenic deck over Wilson Stream. Better call for hours as open for evening meals only during week after September.

ELI'S (class A), Turner, south on Route #117 off #219 from Wayne.  20 minute ride.  Excellent golf course, elegant dining in beautiful country.

DUTCH TREAT (watch for Windmill! off highway, on high point to right) Wilton, Routes 2 & 4, Wilton to Farmington.  20 minute ride.  Playground for kids.  Outside tables; (limited inside tables).  Gifford's ice cream, burgers, hot dogs, clams and fish baskets, fries.  Good stop with children, and handy if on way to Mt. Blue State Park or a movie show in Farmington at the Railroad Theater.


THE HOMESTEAD RESTAURANT Farmington, turn right onto Broadway (off Main St which is Route #4). A 30minute ride. One of the hosts' favorites. An in-house bakery with great pies and pastries, specialty coffees, unusual and delicious fare. Farmington is a pretty university town, home of Franklin county Fair and the Narrow Gauge Cinema for rainy day entertainment.

LUCKY GARDEN RESTAURANT (class A), Hallowell, 222 Water Street.  35 minute ride.  Outstanding Chinese buffet at modest price; good atmosphere on enclosed pier over the Kennebec River.  Handy lunch stop when visiting picturesque Hallowell's many antique shops.

VILLAGE INN (class A), Belgrade Lakes.  Take route #135 north off route #17 in Readfield, to Route #27 north.  35 minute ride.  This is pretty lake country, much photographed in movie, "On Golden Pond."  Excellent fare -- bit more formal atmosphere; full course meals in a scenic setting on the water.  Noted for its roast duck, serving more of that dish than any other restaurant on the East coast.

KAWANHEE INN RESTAURANT (class A), Weld (beautiful Mt. Blue State Park area), route #142 (Weld to Dixfield).  35 minute ride.  A bit pricey, but gourmet food, great setting in rustic lodge among giant pines, with magnificent views of lake and mountains.  Only evening meals served to non-inn guests.  Open June-August. Closes early in September. Suggest call 585-2000 for reservations, due to popularity.

SEDGLEY PLACE (class A), Greene, off Route #202, Winthrop to Lewiston.  40 minute ride.  Long an area favorite, with its "complete 5 course dinners moderately priced."  Call "Hot Line" 946-5989 for current day's menu.  Recommend reservations: call 946-5990 to guarantee prompt seating: 3 sittings ea. Day – 5, 6, 7pm

SULLY'S (class A), Winthrop, Main Street. Indoor and outdoor tables. 20 minute ride. Good variety of lunches or full dinners. Nice little town on Lake Maranacook. Live music 8-12pm July & August.


miscellaneous fast food stops

AUGUSTA:  KFC, McDonald's, Wendy's, Burger King ... all on Route #17 west side approach to city (Western Avenue)

FARMINGTON:  Kentucky Fried Chicken, Burger King, Taco Bell/, McDonald's, Gifford's Ice Cream ... all on Route 4 south side approach to Farmington

JAY:  Yianni's (Italian) on Rt. 4, Jay; McDonald's and Subway, Jay Plaza, Route 17 & 4 north from Livermore Falls to Wilton

WILTON: Athena's, Routes 4 & 2, East Wilton (Italian take-out, also inside dining room)